Freedom Builders Stories
03-27-18
The Calling Is Clear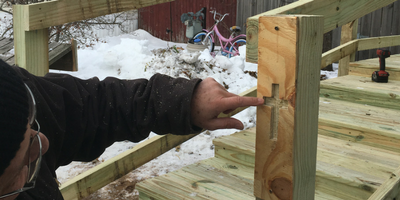 Meet Samantha - A single mother with three children.

Life hasn't been easy for Samantha. Her husband took off. She's been fending for herself without enough financial support or sufficient housing. The trailer she and her children call home is in serious disrepair. There is scarcely enough money for food.

Meet Hannah - Samantha's five-year-old daughter with serious special needs.

Life hasn't been easy for Hannah either. An otherwise happy little girl, Hannah endures a unique nightmare: her little body shuts down three to five times each night. When this happens, again and again, an alarm sounds and her mother must take drastic measures to bring Hannah back.

This kind of nightmare is real. It is fearful. And it is exhausting.

To make things even more difficult, at one point Samantha - who confidently serves as an advocate for other families dealing with children with special needs - could not find anyone to build a disability ramp needed for Hannah. While Hannah could sometimes walk unassisted, she needed the ramp to carry her oxygen tanks to the school bus.

The good news is that Freedom Builders is founded on the fundamental belief that God calls us. And when he calls, he is faithful to provide. From the moment we arrived at Samantha's home, the calling was clear. We knew this was exactly where the Lord wanted us.

We lacked funding for the ramp, but we proceeded with the project, gathering materials and calling on volunteers - people just like you - to help. These volunteers included a retired state police officer and an army colonel; two strong men who had surely witnessed hardships regularly in life, yet they were profoundly moved by the love and care Samantha and her children showed to one another. Love flowed throughout their family and the atmosphere was one of joy as we worked together to bring Hannah's ramp project to completion.

On the morning after the project, Hannah's face shone brightly as she rolled down the ramp for the first time, off to school with her siblings. Samantha's happiness overflowed. We blinked back tears of joy and gratitude through our smiles.

At that moment, the Lord was smiling as well.